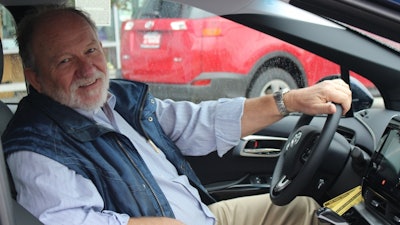 Glenn Rambach
Glenn Rambach is a world-renowned expert in the hydrogen and fuel cell industry and is one of the longtime leaders in the field. His 45-year career began in the 1960s at Sandia National Laboratories, where he was a member of multiple award-winning and breakthrough research teams expanding the hydrogen and fuel cell industry by leaps and bounds.
Glenn also worked with Lawrence Livermore National Laboratory for almost 15 years and led an Energy Department-funded joint project to design, build and operate a combined wind, solar, hydrogen, fuel-cell energy storage facility.
1. How did you get started in hydrogen and fuel cells?
I was very interested in the space program in the 1960s. Years later, with interest in developing rocket engines, I pursued an aerospace engineering degree at Princeton University.
In my senior year, the October 1973 oil embargo made hydrogen and fuel cells interesting to me again. When President Nixon announced Project Independence, to become independent of foreign oil by 1980, I decided to direct my interests towards energy and chose a pathway in graduate school that would cover both energy and rockets.
When the energy problem was solved in 1980, I'd go back to doing something in rockets. Things didn't get solved that quickly though.
2. What's the most important thing you've learned in your career?
It is valuable to understand as many perspectives as possible about our fields of work, from hydrogen, fuel cells, and renewables, to all advanced energy endeavors.
Achieving things necessary for hydrogen and fuel cells to be successful requires understanding the interdependence of technologies, economics, social behaviors, markets, safety, and financing.
3. What made you decide to buy one of the first consumer fuel cell electric vehicles, the Toyota Mirai?
I developed a knack for being good at guessing the potential for new car models. In 1983, I bought a Camry in its first month of sale in the United States. Turns out it was a good guess.
Later, my wife Lynn and I bought the second generation Prius in its first week offered in the United States in 2003, another good guess. With a couple decades of hydrogen and fuel cell background, it was easy to become excited about the Mirai's potential now that it's a real production car sold in places where there are refueling stations.
During a California Hydrogen Business Council conference call, the list of eight Toyota Mirai dealers was announced. I was very surprised to hear Roseville Toyota, 18 miles from our house, was one. I contacted them in less than an hour and began earnestly studying what I could about the car's potential.
4. What has it been like owning the first fuel cell electric vehicle (FCEV) sold in America?
We absolutely love it. The process of parking it is actually the process of showing it off and talking about it to inquiring strangers. People walk up and start asking questions. It doesn't get old ... so far.
5. How is driving an FCEV different than driving a traditional car?
It's very quiet at all speeds. With all torque at any speed, it is a great performer, as expected from a well-designed electric car. Yes, it peels out pretty easily.
We get more smiles, waves and thumbs up than we ever did with our first Prius which was also new to the public. Otherwise, the Mirai is a well-appointed and equipped passenger car that does what a car is supposed to do. A very important thing I always like is that it's so similar to traditional cars in looking at the fuel gauge, having the familiar "plenty of range left" feeling, and refilling in just a few minutes.
Just knowing what is going on in the drive train as I drive, and what comes out of the tail pipe adds to the pleasure of driving the car. I'm constantly aware of the zero environmental and energy independence impact of the car, and that is very satisfying after 43 years of working towards those goals.
6. What are the biggest accomplishments you've seen in the hydrogen industry?
In the late 1990s, I was looking into buying a less than 50 kilowatt (kW) fuel cell stack for a project I was doing. The cost of the stack then would be enough today to buy about seven Mirai fuel cell cars, all with 114 kW stacks in them. That's significant progress in a little more than 16 years.
It resulted from numerous technical accomplishments in processes, materials, and designs in all sectors of hydrogen and fuel cell industries. Another important and big accomplishment is the development of a number of codes and standards for vehicles and stations.
7. What are the biggest changes you've seen in the industry?
For decades there were only a few hydrogen-powered cars tested in any one year, and occasionally you would see a hydrogen fuel power plant. In the early 1990s several automotive manufacturers were testing fuel cell vehicle designs. They included vans chock-full with components, small custom pickups with the bed filled with about 15 kW of fuel cells.
Fueling was from custom systems and local bottle storage tanks. That was only 25 years ago. Today, the 153-horsepower Mirai has been sold or leased to almost 200 customers who regularly refuel them with hydrogen – the same as we've done with gasoline cars.
8. What do you think is next for the FCEV industry?
Many more refueling stations, with new methods and strategies for sourcing hydrogen, with pretty rapid growth of renewable production.
9. What do you think are the biggest challenges ahead?
I think as long as quality fuel cell cars continue to become available, as I expect they will, people will continue to accept and purchase them in growing numbers. We need to assure that the growth in refueling infrastructure stays ahead of vehicle production.
10. What advice would you give to someone starting out in the field?
There is always a better way to do something that is already accepted as good enough, or even as good as it can get. It's important to be able to choose the better over the just different.
This interview first appeared on Energy.gov.