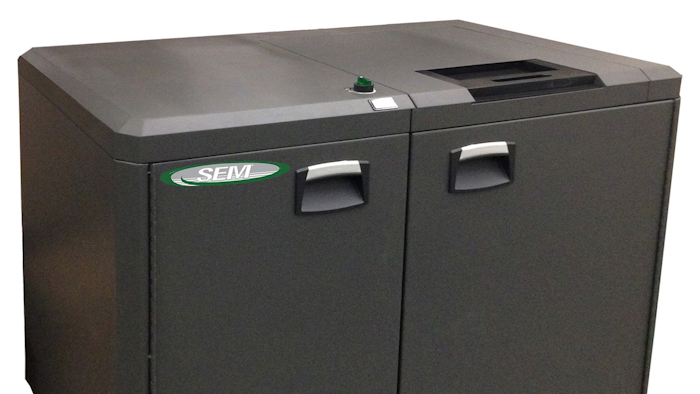 The SEM Model SSD1-HS from Security Engineered Machinery (Westboro, MA) reduces solid state devices to waste particles of .5mm squared or less and meets DIN 66399 Standard E-7 – smaller than the NSA requirement for sanitization of SSD devices per NSA/CSS EPL 9-12. Absolute destruction through repetitive high speed cutting of memory media ensure all data is properly sanitized. Storage media is continuously cut until it is small enough to pass through a customer selected waste sizing system to meet customer's security level or a specific DIN Level. Items that can be destroyed in the Model SSD1-HS include solid state boards, RAM, smart phone / cell phone components, SIM cards, USB flash drives, compact flash and even optical discs. Features include:
A compact design, with all components housed within a custom enclosure for maximum sound, odor and dust control.

Destruction capacity dependent on the media being destroyed and the customer selected sizing screen.
An ergonomic operator interface, which allows easy viewing and control of all machine functions.
An interlocked feed slide with integrated feeding protocols ensuring proper metering of media through the data sanitization process.
Safety interlocks, which prevent operation when any safety guard or panel is not in place or waste disposal is required. An air filtration system consisting of a carbon pre-filter and HEPA filter is also included.
www.semshred.com; 508-366-1488