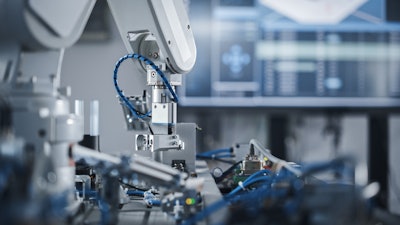 iStock
Patti Engineering, Inc., a control system integration company with offices in Michigan, Texas and Indiana, announced the latest achievement of one of its team members, Sr. Controls Engineer II Nikhil Niphadkar, as he achieved a Siemens Advanced Factory Automation (FA) Certification, adding to the company's capabilities as a Siemens Solution Partner.
Patti Engineering, a Siemens Solution Partner with multiple Siemens Certified engineers on staff, is positioned to deliver quality service using the Siemens family of factory automation and process equipment. Siemens' training programs and certifications guarantee the effective utilization of automation technologies, encompassing smooth design, installation, commissioning, and support. Siemens has set criteria for its certified experts, ensuring they meet high standards of competence and expertise.
The Siemens FA certification, valid for two years once attained, guarantees that Patti Engineering's automation projects will meet Siemens' consistent quality standards, as they are overseen by experts equipped with up-to-date expertise and qualifications. An understanding of Siemens product functions and adherence to engineering protocols serve as the minimum qualifications for entry into the course and evaluation process.
"Training our engineers has been a long-term priority for us. When it comes to intricate Siemens automation projects, the presence of Siemens Certified engineers is indispensable for delivering top-tier, state-of-the-art solutions," Dave Foster at Patti Engineering said. "Our engineers who have attained Siemens Certification deserve commendation for their steadfast commitment to training and their dedication to best practices, both of which underpin Patti Engineering's ongoing success."