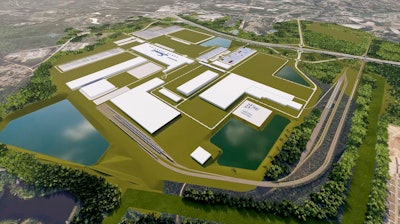 Scout Motors
BLYTHEWOOD, S.C. (AP) — Construction work has been temporarily stopped on a $2 billion new electric vehicle plant in South Carolina being built by a Volkswagen Group-backed group trying to revive a brand that was a forerunner to today's SUVs.
State and local officials said they need more time to obtain wetland permits to continue clearing land at the Blythewood site for Scout Motors. But they said the pause shouldn't delay the planned opening of the plant in 2026 or the hiring of 4,000 workers.
The delay also will give officials more time to collect public comment about the plant just off Interstate 77 north of Columbia and its environmental impacts, South Carolina Commerce Secretary Harry Lightsey and Richland County Economic Development Director Jeff Ruble said in a joint statement.
"We value the people who call Blythewood home and want to make sure they stay informed about the project's progress — especially as construction efforts will ebb and flow until completion," they said.
Scout Motors still plans presentations with a 3D model of the plant in Blythewood and to answer questions from the public the weekend of Sept. 17-18 in Blythewood.
Scout Motors is backed by Volkswagen and is trying to revive a brand that was a 1960s forerunner to today's SUVs for the new electric vehicle market.
International Harvester made gas-powered Scout vehicles in the 1960s and 1970s. Their shape and features continue to influence modern SUVs, and Scouts have had a niche fanbase of collectors ever since.