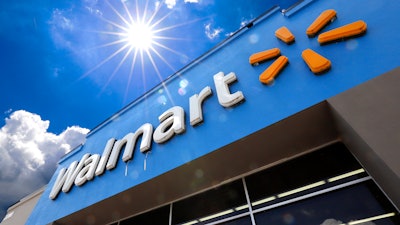 AP Photo/Gene J. Puskar, File
NEW YORK (AP) — Walmart, the nation's largest private employer, is making adjustments to its pay scale that will mean some new store workers, like those fetching online orders, begin at a lower hourly pay rate than they would have a few months ago.
The change, which became effective in July and was first reported by The Wall Street Journal on Thursday, will create consistency in starting hourly pay across individual stores, said spokeswoman Anne Hatfield, which will lead to improve staffing and customer service.
The exception would be those who work in the deli, bakery and auto care departments, jobs that require a higher skill set. Hatfield said there will be no pay cuts for current employees.
"Consistent starting pay results in consistent staffing and better customer service while also creating new opportunities for associates to gain new skills from experience across the store and lay the groundwork for their career regardless of where they start," Hatfield said.
Hatfield said it was difficult to move employees to different areas of the store to fill in staffing holes because of the salary differences. Cashiers and hosts generally have the lowest pay.
The moves come as the U.S. job market is starting to loosen up bit. America's employers added 187,000 jobs in August, evidence of a slowing but still-resilient labor market.
Walmart Inc. announced in January that U.S. workers would get pay raises the following month, increasing starting wages to between $14 and $19 an hour. Starting wages currently ranged between $12 and $18 an hour, depending on location.