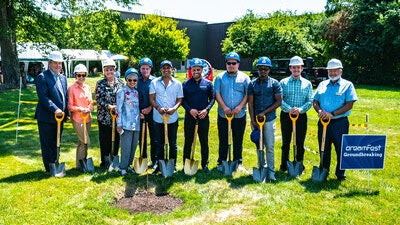 DreamPak LLC
DreamPak LLC, a contract manufacturer and store brand supplier of drink mixes, liquid creamers, shelf-stable meals and dietary supplements, broke ground on a 50,000-square-foot addition to its New Berlin, Wisconsin, location in front of a crowd that included employees, the Waukesha County Business Alliance and both state and local elected representatives.
"We are very proud to be part of the community of New Berlin and Waukesha County" said Dr. Aly Gamay, president and CEO of DreamPak. "The current expansion allows our family-owned business to add many jobs to the local economy and cement its standing as an integral member of this vibrant and innovative community. We have a very ambitious goal of becoming the go-to partner for our retail partners in several major center store categories."
Nearly 10 years ago, the company made the decision to purchase the facility on Ryerson Road and make it the manufacturing headquarters. The additional space will add processing, filling and storage space to support the company's growing liquid concentrate business.
DreamPak also has plans to continue developing its six-acre land parcel over the next couple of years, in addition to leasing several spaces in the local business park to support other projects.