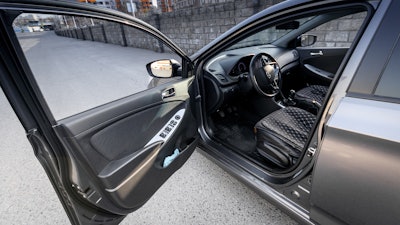 iStock
METTER, Ga. (AP) — A South Korean company that makes automotive seating said Wednesday that it plans to build a $35 million factory in eastern Georgia to supply a new Hyundai Motor Group plant near Savannah.
DAS Corp., which makes metal frames and other parts for automotive seats, said it will hire 300 people to work at the new plant in Metter.
Hannah Mullins, the executive director of the Candler County Industrial Authority, said the DAS factory will take up about 200,000 square feet (18,600 square meters) of space and that the starting pay for workers will be $20 an hour.
The state will pay to train workers. It also gave $500,000 last year to help local officials complete a road and a sewer connection in the industrial park where DAS is located. The city of Metter and Candler County are granting 10 years of property tax breaks, for which Mullins could not immediately provide a projected value. DAS could qualify for $4.5 million in state income tax credits, at $3,000 per job over five years, as long as workers make at least $31,300 a year.
DAS is just the latest company to announce that it will supply Hyundai's $7.5 billion plant to assemble electric vehicles and batteries in Ellabell, near Savannah. The Hyundai plant, which was announced last year, could grow to 8,500 employees and is scheduled to begin producing vehicles in 2025.
Suppliers to the Hyundai plant have pledged to invest $2.2 billion and to hire nearly 5,300 people.
DAS, already a supplier to Hyundai and sister automaker Kia, opened a plant in Montgomery, Alabama, in 2012 that's grown to nearly 500 employees, according to the Montgomery Chamber of Commerce. DAS Chief Operating Officer Sean Kim said in a statement that the company wanted plant close to the new Hyundai plant. DAS aims to begin production in Metter in late 2024.
Besides South Korea, DAS has other plants in China, Turkey, the Czech Republic, India and Brazil.
DAS is the second company in a week to announce an investment in 4,000-person Metter. Last week, 4 Fungi's Regenerative said it would invest $27 million to build greenhouses to grow and process mushrooms and greens, using local agricultural waste as fertilizer. That company is projected to hire 50 people, also paying $20 an hour, Mullins said.
New jobs paying higher wages will be "game-changing" for the 11,000-person county by raising incomes and allowing residents to stop driving elsewhere for work, Mullins said.