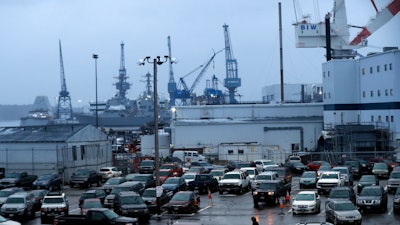 AP Photo/Robert F. Bukaty, File
BATH, Maine (AP) — The largest union at Navy shipbuilder Bath Iron Works in Maine overwhelmingly approved a new three-year contract, the union said Sunday, averting another strike like the one three years ago that contributed to delays in delivering ships.
The contract, which takes effect Monday, raises pay a range of 2.6% to 9.6% in the first year with differences due to a mid-contract wage adjustment that already took effect for some workers, and will be followed by a 5% increase in the second year and 4% increase in the third. Workers are receiving an increase in contributions to their national pension plan while health insurance costs will grow.
Machinists' Union Local S6, which represents about 4,200 production workers, touted the biggest pay raises by percentage since the union's founding in the 1950s.
"Local S6 would like to thank you for your vote and support as we continue to advocate for our members' best interests and uphold the contract with the utmost dedication," union leaders said to members in a post on their Facebook page Sunday.
Bath Iron Work also hailed the deal.
"This agreement represents our desire to continue working together to deliver the Navy's ships on time to protect our nation and our families," the company said in a statement. "We appreciate our employees' participation in the process. Training and implementation of the new elements of the contract begin this week."
Workers represented by the union approved the pact with 72% supporting the deal in online voting that began on Friday and concluded Sunday afternoon, officials said.
The tenor of negotiations was positive with both sides agreeing at the outset there would be no attempt to reinstate subcontracting provisions that triggered a strike in 2020 in the middle of the pandemic.
A union spokesperson said the contract discussions went "smoothly" — a far cry from the previous negotiations that broke down and led to a 63-day strike that put the shipyard in a deeper hole when it came to construction backlogs.
The company said at the time that the shipyard was already more than six months behind schedule before the strike, and workers have been struggling since then. The company declined to provide the current average delay, saying it varies from ship to ship.
The General Dynamics subsidiary is one of the Navy's largest shipyards and builds guided-missile destroyers, the workhorses of the Navy fleet. It's also a major employer in the state with 6,700 workers.