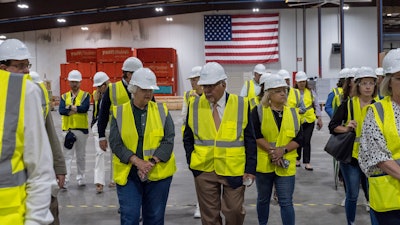 The Amherst Group
The Amherst Group, a real estate company, today announced its first StudioBuilt manufacturing facility in Cuero, Texas. A grand opening event yesterday featured a ribbon cutting ceremony and factory tour.
Amherst bought a former textile factory in Cuero, Texas in 2021 to launch its first facility. The new factory will create 250 manufacturing jobs and produce hundreds of homes each year.
Amherst's StudioBuilt homes are prefabricated homes that are constructed in a factory and then installed on a permanent foundation on site. The off-site construction process enables the homes to be completed 50% faster than traditional onsite homebuilding, provides better quality controls during the construction process, and is a more sustainable housing product.
Thee homes offer the same quality, resiliency, code compliance and amenities of a traditional stick-built home, according to the company.
Amherst plans to invest more than $12 million in the Cuero factory, which will enable it to make more than 600 new housing units every year.
As part of its commitment to solving this nation's housing supply crisis, Amherst will place hundreds of units produced at this factory in municipalities across Texas and neighboring states annually.