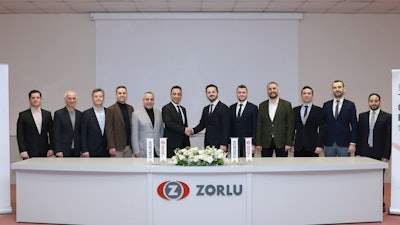 Korteks
Rockwell Automation, Inc. announced that its digital solutions, knowledge and capabilities have proved pivotal in the successful plantwide modernization of Korteks' fiber and textiles plant in Turkey.
Korteks, one of Europe's biggest fully integrated polyester continuous filament yarn manufacturers, boasts about 335,000 m2 of production facilities, with daily polymer production capacities amounting to nearly 600 tons of yarn in various formats, including POY, FDY, texturized, twisted and air texturized.
The company faced a growing risk of unplanned downtime due to the obsolescence challenges within its legacy OT infrastructure. However, it also faced difficulties in the planning of its modernization investment due to the complexity of its installed base.
After in-depth technical discussions and multiple site visits, Rockwell Automation demonstrated a holistic modernization approach – that factored in all the complexities of the existing OT and IT infrastructure – with minimum production disruptions.
"We examined each individual machine and developed bespoke machine-specific upgrade pathways that would keep downtime to an absolute minimum," explained Ediz Eren, Rockwell Automation country sales director in Turkey. "Each individual plan then feeds into the overall plan, which will eventually deliver a standardized plantwide automation and control infrastructure that will greatly simplify maintenance, training, operation and future integration."