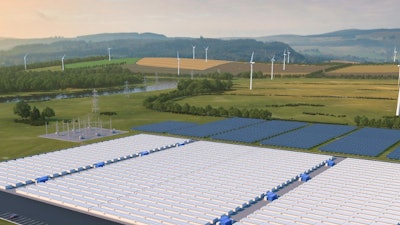 Form Energy
CHARLESTON, W.Va. (AP) — West Virginia's Senate gave final approval Wednesday to a $105 million investment for a renewable energy plant in the state's Northern Panhandle.
Senators approved the appropriations bill on a 21-13 vote after lengthy debate. The House of Delegates approved the funding for the project earlier this month.
Massachusetts-based Form Energy will build the plant on a 55-acre site once occupied by Weirton Steel in the Northern Panhandle. Construction is expected to begin this year with manufacturing of battery systems set to start in 2024, the company said.
Form Energy — which will produce iron-air batteries and has several prominent investors, including Microsoft founder Bill Gates and Amazon founder Jeff Bezos — has stated opposition to fossil fuels.
It was another representation of the ongoing shift in coal-rich West Virginia as state leaders seek cleaner forms of energy while preserving the state's roots. In the past year, the state has seen several major announcements for alternative energy projects, including green battery plants and a Warren Buffett-backed industrial park powered by renewable energy.
Sen. Robert Karnes, R-Randolph, said the state's backing of the Form Energy project was risky.
"We've got a battery company that's never made a battery," he said. "I don't know how you could call that anything other than a wild gamble."
State leaders announced in December that Form Energy had agreed to its first commercial-scale manufacturing facility in Weirton in an investment of up to $760 million. The total proposed state support for the project is $290 million, including the $105 million approved Wednesday. A total of $75 million was already invested in purchasing the property, the site of a closed steel facility, and to start infrastructure work.