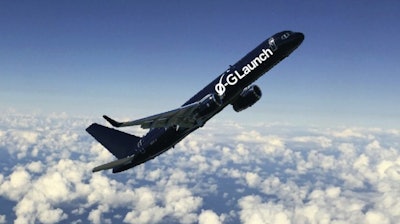 0-G Launch
0-G Launch, a Washington DC-based provider of the Space Jet horizontal rocket air-launch and microgravity service aircraft, and PD AeroSpace, a Japanese company headquartered in Nagoya developing a transportation system for space and Earth through its fully reusable spaceplane based on detonation technology, announced the signature of a cooperation agreement to conduct zero-gravity parabolic flights from the Simojishima Islands starting in 2024.
Per this agreement, 0-G Launch will fly its Space Jet to Japan on a yearly basis to offer high-precision microgravity parabolic flights from the Shimojishima airport facility, where PD Aerospace's research and development team is located. PD Aerospace will manage and organize the media outreach and logistics to ensure that these unique flights are accessible to the Japanese and Asian space industry for research, astronaut training and consumer zero-gravity flights.
"I am very excited to announce our first operational footprint in Asia, through our partnership with PD Aerospace in Japan, so that both the regional space industry and consumers can benefit from our latest developments in microgravity flight technology offered from our Shimojishima Island location," said Robert Feierbach, Chief Executive Officer and Founder of 0-G Launch.
"We would like to express our gratitude to all parties involved for making this contract possible. We believe that having Shimojishima Spaceport as our base of operations for microgravity flights will have a positive effect on our future space business, since the services provided by 0-G Launch will also be used for our space travel training purposes. Our combined efforts will allow many people to visit Okinawa, and to feel closer to space," said Shuji Ogawa, Chief Executive Officer of PD Aerospace.
Toshihisa Kumazawa, Regional Representative, Asia for 0-G Launch said: "I am very proud to have brokered this important agreement with PD Aerospace in Japan, as it establishes the first Asian location for 0-G Launch to offer and demonstrate the great advances in microgravity technology that our Space Jet™ will bring to the market, starting in 2024."