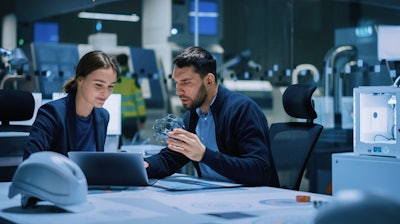 iStock
QAD Inc., a Thoma Bravo portfolio company delivering next-generation manufacturing and supply chain solutions in the cloud to enable the Adaptive Enterprise, has closed the acquisition of Redzone.
Over 1,000 plants and 300,000 frontline workers worldwide rely on Redzone's solutions to create a better employee experience for frontline teams and transform productivity by energizing and arming teams with the digital workflows and collaboration tools to get the most out of every shift.
This is the second acquisition completed by QAD in the last two months – in December, QAD acquired Livejourney, a provider of a real-time process mining and predictive modeling solution designed to discover, monitor and improve business processes.
Redzone received a growth equity investment from Summit Partners in 2020 and has continued to deliver strong growth over the last several years. In 2022, the company defied a slowing SaaS market, accelerating bookings growth to 46%, adding over 100 new clients and over 200 new plants by meeting the critical needs of manufacturers with its suite of frontline Productivity, Compliance, Reliability and Learning applications. Global manufacturers that benefit from the technology include the likes of Nestle, Post Holdings and Tyson.
QAD Adaptive Applications are designed to support the Adaptive Enterprise where in a turbulent world, facing disruptions in supply and fluctuations in demand, manufacturers and supply chains rapidly respond to change and seamlessly optimize agility, efficiency and resilience for effective customer service.
The addition of Redzone's connected workforce product supercharges the QAD Adaptive Applications product suite by enabling QAD customers to drive rapid, tangible increases in empowerment, retention and productivity on the frontline. When employees have a growth mindset, they are better able to take extreme ownership of the challenges that impact their production goals and continuously improve, creating resilience in the face of disruption.
"People, process and technology are critical elements of any organization, and in a world of increasing labor shortages, the people factor becomes of paramount importance," said QAD CEO Anton Chilton. "QAD has concentrated on delivering industry best practices to manufacturers supported by industry leading technology delivered through the cloud. Redzone's focus on people, their productivity and engagement addresses a primary area of opportunity for our customers."
Labor productivity improvements directly impact efficiency. Productive and empowered employees increase the effective capacity of a manufacturing plant and accelerate time to productivity for new employees. This gives manufacturers the agility they need while also reducing the amount and impact of employee attrition.
Recent worker shortages have plagued manufacturers and are not going away – according to Deloitte, the labor shortfall is likely to reach 2.1 million and cost the economy $1 trillion by 2030. With the addition of Redzone, QAD now has a complete end-to-end solution for manufacturers to fully realize the potential of the Adaptive Enterprise from the shopfloor to the top floor, and from supplier to end customer.