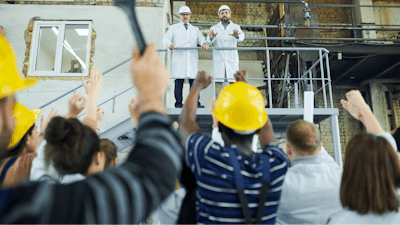 iStock
Workers of a Refresco bottling factory in Wharton, New Jersey voted to form a union in June after complaints about low wages, minimal benefits and sexual harassment.
Refresco, the largest independent bottling corporation globally, filed a legal appeal against the move to form a union.
A spokesperson for Refresco said the company decided to appeal the decision from the regional director of the National Labor Relations Board to certify the election result.
"The union election at our Wharton production location was, unfortunately, not conducted in accordance with all applicable rules and regulations," the spokesperson said. "Refresco wants to be certain that the outcome of this election truly reflects the will of the employees."
Further complications between employees and the Wharton factory occurred in November.
Workers cited pools of chemical water, seeing sewage on the floor during a shift, minimal to no time off, understaffing, lack of adequate machine operation training and being near loud machines, which caused hearing loss in some cases.
Union representatives also mentioned incidents involving two fires in September and October at the plant. However, they claimed no fire alarms went off and the fire department was not called.
A lead machine operator added, "We are treated like animals."