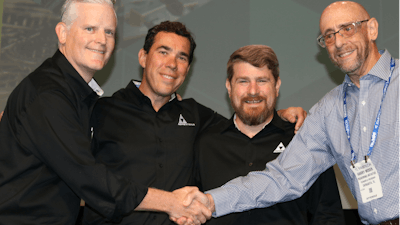 Acme Alliance LLC, a leading die caster in Northbrook, Illinois, received the 2021 National Metalworking Reshoring Award in recognition of its success in bringing manufacturing back to the United States.
The 2021 award was presented on the FABTECH Main Stage at McCormick Place in Chicago by Harry Moser, Founder and President of the Reshoring Initiative.
The award honors companies that have effectively reshored products, parts or tooling made primarily by metal forming, fabricating, casting or machining, including additive manufacturing. The award is made possible by the Reshoring Initiative, the Precision Metalforming Association (PMA), The Association For Manufacturing Technology (AMT) and the National Tooling and Machining Association (NTMA). SME generously provided the venue and audio-visual recording.
Mauri Mendes, President of Acme Alliance-Lovejoy Industries, said, "In our business model, we use our worldwide manufacturing footprint to produce and deliver products to the regions where they are assembled [and used] by our customers. We truly believe being close to our customers is the most important strategy. We are seeing many large organizations switching their strategy by reshoring their supply chain."
Matt Thavis, Director of Business Development, and JR Kinnett, General Manager, provided additional insight into Acme's success.
Acme Alliance was chosen for several reasons, according to Moser.
"Acme has a record of reshoring products for their customers. In one case, their reshoring fixed a quality problem and cut the customer's inventory by 94%. Acme also has successful facilities in Brazil and China. By not shipping from those facilities to the U.S., Acme has proven that reshoring is not only possible but the right business choice. Acme also has a strong, lean culture, a frequent key to reshoring. Acme's success, repeated throughout the U.S. supply chain, will achieve the five million additional jobs targeted by the Biden administration."
OEMs and contract manufacturers are encouraged to apply between November 1, 2021, and June 30, 2022, for the 2022 National Metalworking Reshoring Award. The winner will be announced at IMTS2022.