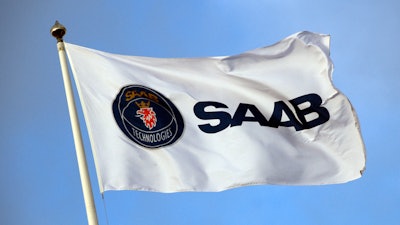 Saab
In May 2019, Saab announced plans for a new facility in West Lafayette, Indiana, for its expansion in the U.S. aerospace sector. Construction began in 2020.
On Oct. 13, the company held a ribbon-cutting ceremony at its new 100,000-square-foot facility, which was completed on time and on-budget. The plant will produce Saab's aft airframe section for the T-7A Red Hawk trainer program. It will also support R&D in autonomy, artificial intelligence and advanced manufacturing.
By 2027, Saab expects to hire up to 300 employees for the facility, including assemblers, engineers and system administrators. The West Lafayette facility will also work collaboratively with Purdue University on R&D in sensor systems and artificial intelligence. Saab plans to export products and technology from the plant.
The T-7A Red Hawk is an all-new advanced pilot training system designed and manufactured through a Saab-Boeing partnership for the U.S. Air Force to train the next generation of fighter and bomber pilots.
Saab's site in West Lafayette will build an aft section with installed subsystems that extends from behind the cockpit to the end of the aircraft, and supply them to Boeing's final assembly line in St. Louis for joining with the front section, wings, fins and tail.
The T-7A Red Hawk went from concept to first flight in just 36 months using advanced model-based engineering and digital design techniques. The digital thread, the connection of digital information through product design, manufacturing and inspection, used throughout the program has accounted for a 75% improvement in engineering quality, according to Boeing.
In September 2018, the U.S. Air Force awarded Boeing a $9.2 billion contract to supply 351 advanced trainer aircraft and 46 associated ground based training simulators.