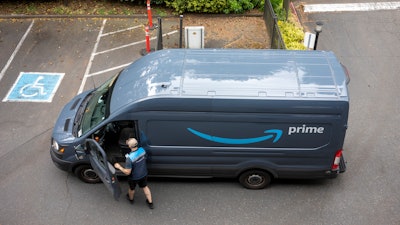 iStock
Leigh Day, a law firm in the UK, filed an employee rights claim for Amazon delivery drivers. BBC reports the claim states the drivers deserve employee rights and at least 3,000 drivers could receive over $191 million in compensation.
The majority of Amazon drivers are not direct employees of the company. Instead, they work for Delivery Service Partners (DSPs) and are not eligible for National Minimum Wage or an employment contract.
Leigh Day's argument is that the drivers should have more rights because of the amount of control Amazon possesses over them. For example, the firm cited Amazon requires drivers to work set shifts and book time off but says the drivers are self-employed.
In a Leigh Day press release, employment solicitor Katie Robinson added drivers' charges can include van rental, fuel and insurance.
After working 36 hours across four days, one driver claimed they earned only $3.73 instead of the expected $634.
"For drivers, earning at least National Minimum Wage, getting holiday pay and being under a proper employment contract could be life-changing," Robinson said.
The law firm currently represents two drivers and looks to acquire others for group action.
In a response to Leigh Day's announcement, an Amazon spokesperson told Business Insider, "We are committed to ensuring these drivers are fairly compensated by the delivery companies they work with and are treated with respect, and this is reflected by the positive feedback we hear from drivers every day."
In February, Leigh Day won a case on behalf of Uber drivers which required drivers to be regarded as workers rather than self-employed.