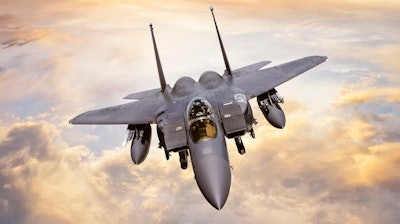 BAE Systems
Boeing recently awarded a $58 million contract to BAE Systems to begin Low Rate Initial Production (LRIP) of the F-15 Eagle Passive Active Warning and Survivability System (EPAWSS) for the U.S. Air Force.
The electronic warfare (EW) and countermeasures system provides advanced electromagnetic capabilities that protect pilots and help them maintain air superiority during their toughest missions.
The all-digital EPAWSS enables pilots to monitor, jam, and deceive threats in contested airspace. The system combines multispectral sensors and countermeasures, industry-leading signal processing, microelectronics, and intelligent algorithms to deliver fully integrated radar warning, situational awareness, geolocation, and self-protection capabilities.
The successful completion of a series of rigorous flight tests, ground tests, and intensive technology demonstrations led to the U.S. Air Force decision to proceed with LRIP.
During the program's Engineering and Manufacturing Development phase, BAE Systems is delivering incremental updates to the EPAWSS flight software with new geolocation and threat identification capabilities.
As a result, system performance continues to improve in ground/flight test and in dense signal environments in hardware-in-the-loop (HiTL) tests at the U.S. Air Force's Integrated Demonstrations and Applications Laboratory.
BAE Systems has also demonstrated EPAWSS' hardware maturity and manufacturing readiness. In anticipation of EPAWSS LRIP and other critical EW production needs, the company has invested more than $100 million in world-class EW laboratories and factories, and has grown its workforce of innovative, mission-focused experts.