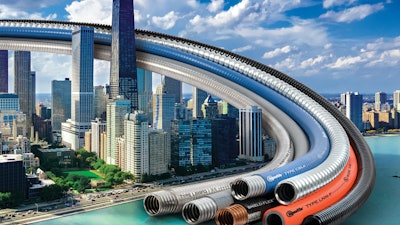 Founded in the Chicagoland suburbs in 1955, Harold Kinander, Sr. led Electri-Flex (Roselle, IL) in producing the first type of Liquatite conduit. Today the Company manufactures nearly 50 varieties, offering the widest range of conduit available in the marketplace.
Electri-Flex is third generation owned and operated. Though it started in a Chicagoland chicken hatchery in 1955, Liquatite is now manufactured and distributed from three buildings, all within a one-mile radius. This expansion is a symbol of the company's history, success and future. "This means a lot to Electri-Flex and its ability to remain a top provider of electrical conduit. It allows us to build on our reputation of worldwide quality, service, and product innovation," said Jason Kinander, CEO.
Liquatite conduit offers the most diverse line of liquidtight flexible electrical conduit in the industry. The company provides custom design, engineering, cutting services, quality assurance and testing capabilities.