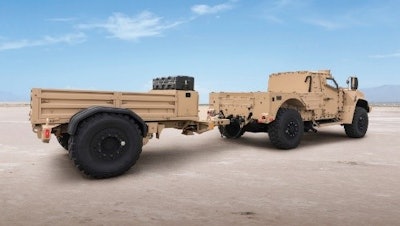 Oshkosh Defense
Oshkosh Defense says it has been awarded a $61.8 million modification from the U.S. Army Contracting Command, Detroit Arsenal to increase available trailer options under the current Joint Light Tactical Vehicle (JLTV) Family of Vehicles contract from 32 to 3,541.
The JLTV-T was designed as an integral part of the JLTV Family of Vehicles, providing off-road performance and durability.
JLTV-T deliveries are expected to begin this year and continue through 2021.
The trailer features:
18.5 in. of wheel travel
5,100 lb. payload
60 in. fording capability
70 MPH maximum speed
Anti-lock Braking System (ABS)
Compatible with legacy pintles on HMMWV, FMTV, HEMTT, LVSR, M-ATV, and MTVR