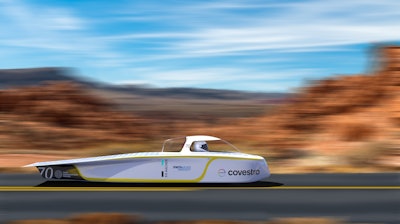 Motion plastics from igus helped 70 students from Germany develop a solar-powered vehicle that traveled nearly 1,900 miles in the Australian desert at the World Solar Challenge.
Team Sonnenwagen Aachen from RWTH Aachen University developed their solar-powered car with wear-resistant, self-lubricating plain bearings from igus. The solar vehicle covered 1,877 miles in just one week in the blazing Australian desert. Team Sonnenwagen finished sixth in the field of 27. Six teams did not finish the race.
The World Solar Challenge travels from Darwin to Adelaide, and the cars are required to be propelled by solar energy. Temperatures average in the 90s during the event. Teams from all over the world developed various vehicle concepts, demonstrating the diversity of sustainable technologies.
The lightweight iglide plain bearing technology of igus can be found in countless places in the solar-powered car. Self-adjusting igubal clevis joints made of iglide J were used in the telescopic mechanism for the solar car cover and in the steering wheel. The same material was also found in the form of plain bearings in the suspension of the rear wheels and in the steering gear.
Projects such as Sonnenwagen from Aachen are supported by igus as part of the "young engineers support" (yes) program. With the university initiative, igus seeks to support students and lecturers with free samples, sponsorships and the development of innovative projects. For more information about the university support, visit www.igus.com/yes