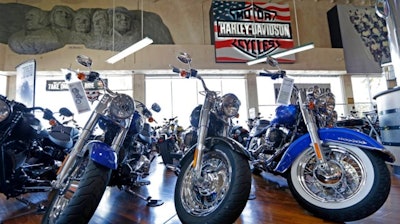 AP File
A major Harley-Davidson investor is seeking two seats on the company's board as it pushes for further changes at the embattled motorcycle maker.
The Milwaukee Journal Sentinel reports that Harley faces a proxy battle after Impala Asset Management nominated former General Motors and NASCAR executive Brent Dewar and telecom investor Leo Hindrey to the nine-member board of directors.
The Florida-based hedge fund, which reportedly owns about 2% of the company's shares, said in a filing with federal regulators that it called for the ouster of departing CEO Matthew Levatich, as well as a "modest refresh" of the board amid the Harley's well-documented struggles with an aging customer base and slower domestic sales.
"We believed then, and still believe, that the company underperformed its potential under Mr. Levatich and that the board should have taken action on its own," Impala said in the filing, according to the Journal Sentinel.
Harley, the report said, argued the proposed candidates would not bring additional skills to the board and rejected them.
Reports of the proxy battle came one day after Harley announced it would suspend most U.S. production due to the growing coronavirus pandemic. The company said an employee at its powertrain operations in suburban Milwaukee tested positive for COVID-19.
"The majority of its U.S. production employees will be on temporary layoff with medical benefits," the company said in a statement.