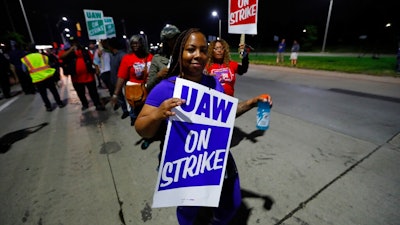 AP Photo/Paul Sancya
Michigan Gov. Gretchen Whitmer is supporting autoworkers who are striking against General Motors.
The Democrat on Monday visited United Auto Workers members picketing outside the Lansing Grand River plant, blocks from the state Capitol building. Photos her office posted to social media showed her shaking hands and delivering doughnuts.
Spokeswoman Tiffany Brown says Whitmer is closely monitoring the strike and supports working peoples' rights to negotiate together for better wages, benefits, working conditions and more time to spend with their families.
More than 49,000 unionized GM workers walked off their jobs just after midnight Monday.
Whitmer says she is hopeful that the UAW and GM can negotiate and ratify a new contract quickly, because getting autoworkers back on the job as quickly as possible is important to Michigan's economy.