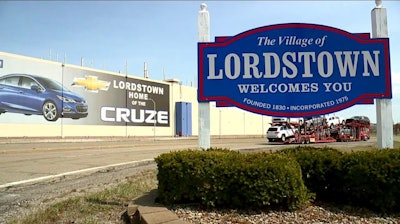 AP Photo
LORDSTOWN, OHIO (AP) — More job losses are coming as part of the shutdown of a General Motors plant in Ohio that makes the Chevrolet Cruze.
A company that supplies janitors and other cleaning services for the GM plant in Lordstown says it will lay off 73 workers next month.
The Vindicator in Youngstown reports that Leadec Corp. announced the job cuts this week.
Hundreds of supplier jobs in northeastern Ohio are being cut ahead of the GM plant closing in early March.
The assembly plant near Youngstown is one of five GM operations targeted to close this year as part of a major restructuring for the Detroit-based automaker.