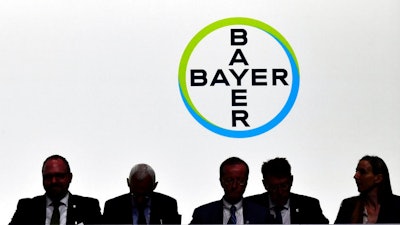 AP Photo/Martin Meissner, file
BERLIN (AP) — German pharmaceutical giant Bayer AG says it's cutting 12,000 jobs worldwide as it seeks to reduce costs.
The Leverkusen-based company said Thursday that details of the cuts to its 118,200-stong workforce would be worked out in coming months but that "a significant number" of the reductions would come in Germany.
Bayer acquired U.S. seed and weed-killer maker Monsanto Co. this year. It says with the "synergies expected from the acquisition of Monsanto" and other efficiency and structural measures, including the job cuts, "Bayer anticipates annual contributions of 2.6 billion euros from 2022 on."
The company says a portion of the funds will be used to strengthen competitiveness and innovation in its divisions.
Bayer shares rose on the news and were up 3 percent in afternoon trading in Frankfurt.