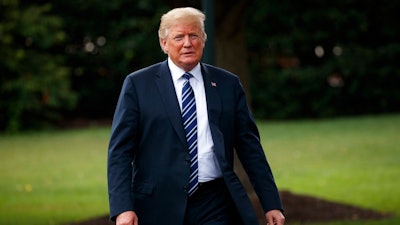 AP file
President Donald Trump says his administration and lawmakers are exerting "a lot of pressure" on General Motors in response to its decision to cut up to 14,000 workers in North America and possibly shutter up to five plants.
Trump says he's being very tough on GM chief executive officer Mary Barra. He says he told the company that the U.S. has done a lot for GM and that if its cars aren't selling, the company needs to produce ones that will.
The plant in Lordstown, Ohio, that makes the Chevrolet Cruze compact car is on the possible closure list. Trump says GM needs to "get a car that is selling well and put it back" into the Ohio plant.
General Motors made the announcement Monday. The reduction includes 8,100 white-collar workers, some of whom will take buyouts and others who will be laid off. Most of the affected factories build cars that won't be sold in the U.S. after next year. They could close or they could get different vehicles to build. They will be part of contract talks with the United Auto Workers union next year.
Plants without products include assembly plants in Detroit; Lordstown, Ohio; and Oshawa, Ontario. Also affected are transmission factories in Warren, Michigan, as well as Baltimore.
About 6,000 factory workers could lose jobs in the U.S. and Canada, although some could transfer to truck plants.