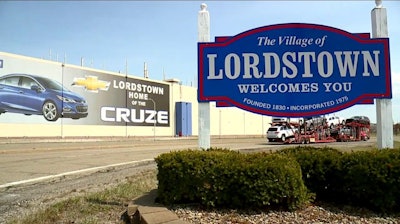 Colleen Marshall, @ColleenNBC4
LORDSTOWN, Ohio (AP) — Union leaders in Ohio aren't giving up hope even though General Motors is announcing it will no longer make the Chevy Cruze at its Youngstown-area plant.
GM said Monday that the assembly plant in Lordstown is one of five factories being looked at for a possible closure.
The Detroit-based automaker says all production at the plant will end in March.
Union leaders and politicians who are behind a campaign backing the future of the plant say they'll continue trying to convince GM that the plant can be a part of its future.
Ohio's incoming governor, Republican Mike DeWine, says he plans on meeting with GM officials after he takes office in January.
The once-bustling factory already has lost two of its three shifts and 3,000 union jobs since last year.