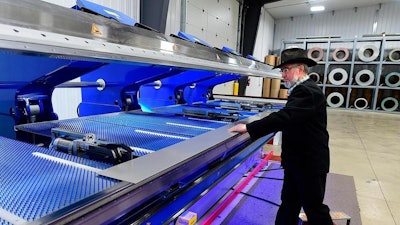 Larry Mayer/Billings Gazette via AP
RYEGATE, Mont. (AP) — A year ago, the Golden Valley Hutterite Colony in Ryegate launched a steel fabrication operation after leaders there realized they needed to do something different.
Hutterites have farmed and raised livestock on the Northern Plains of North and South Dakota, Eastern Montana and southwestern Canada for more than 100 years.
But agriculture hasn't sustained them like it used to, so leaders at the Golden Valley Colony decided they needed to branch out. Their facility produces steel siding, trim and roofs all cut and formed to fit for a contractor or homeowner.
"We have to do this," said Dan Kleinsasser, a colony member and one of the workers in the steel fabrication plant. His son, Josh Kleinsasser, is the operation's manager.
Introducing a state-of-the-art steel fabrication and production facility to an agricultural operation, which runs on technology and practices that were pioneered, in some cases, generations ago, presents myriad issues.
In order to launch Valley Steel, the colony needed to take orders and correspond with contractors and customers electronically. And so for the first time, the internet has come to the Golden Valley Colony, The Billings Gazette reports .
The carpentry shop at the religious colony soon followed and now, for an entire year, the whole place has been wired. Dan Kleinsasser said having access to the internet, with all its worldly temptations, has gone well and that its use is closely monitored.
After successfully using internet for Valley Steel and the carpentry shop, leaders at the colony decided to give access to all members. To encourage accountability, colony leaders set up a computer in an open room that had windows and a door with no locks. And they set up strict filters on internet searches to limit what the colony could access. Working with the internet service provider, leaders also monitor the computer's internet history.
As operations at Valley Steel have gotten underway, workers have been churning out steel trim and siding for barns, homes and warehouses for nearly a year now. It hasn't been easy and managers have had to troubleshoot at nearly every turn.
Dan Kleinsasser pointed to the warehouse's collection of steel.
Steel arrives to the facility in single, long sheets wrapped on giant spools. They keep dozens of these spools on hand, each a different color or texture. And every so often one will show up damaged or otherwise unusable, a hiccup that can be costly as it slows production.
Production moves as quickly as they have the correct materials on hand to use. That was another learning curve.
"We got a big surprise," Kleinsasser said. "We needed way more inventory. The biggest challenge is knowing what to order."
Communication has also taken some work. Hutterites are a close-knit group who speak a mix of English and an upper German dialect known as Hutterisch. Traditionally, they have limited their contact with the world outside the colonies.
And so they've had to work to ensure their communication with the contractors with whom they deal is clear and unequivocal, tightening up the ordering system and stating clearly their expectations.
On top of that, county phone lines don't go out to the colony. Instead they use a satellite phone connection that sometimes goes down in bad weather. The next big project for Golden Valley is bringing fiber to the rural colony to install an actual phone line.
On top of all that, the price of steel has shot up after President Donald Trump imposed tariffs on China earlier this year.
"That affected us quite a bit," Kleinsasser said.
Valley Steel absorbed some of the price hike but it had to pass some of it on to its customers.
The colony has been able to find a good stable of customers in its first year and Kleinsasser would like to see the company bring on more in the coming year.
Jeff Davis of Jeff Davis Construction in Billings is a fan.
"I love working with them," he said. "They're not too big for their britches, like other companies I won't name."
Valley Steel has always shown a willingness to help regardless of the size of Davis' company and it almost always has his order done quickly. Davis also said the prices are good.
One of the major hurdles to bringing on new customers is the colony's decision not to deliver their product.
Depending on the season, colony members — every able-bodied one of them — help with planting and harvest, or processing and packaging holiday turkeys. When it's time to deliver or harvest the turkeys, or the chicken and eggs or pork they process, the colony needs every truck it owns to get the work done.
Those operations are vital to the success of the colony, so diverting resources to deliver its manufactured steel trim and siding just doesn't make sense, Kleinsasser said.
Still, colony members believe launching Valley Steel has been a good move and leaders are hopeful its success will grow. They believe in their ability to do the work and do it well. And they've seen it work at other colonies.
Golden Valley is the only Hutterite colony in Montana to branch outside agriculture with a steel fabrication plant, but a handful of colonies in North and South Dakota have tried it and found success. Kleinsasser said those colonies have been a good resource as Valley Steel has worked out the bugs of its new operation.
But he doesn't expect other Montana colonies to follow Golden Valley's lead. Another Hutterite-led steel fabrication plant would likely saturate the market, making it an unprofitable venture for both colonies, Kleinsasser said.
Outside steel fabrication companies haven't taken much notice of Golden Valley's operation. The owner of Vannoy Metal Works in Billings said his company hasn't been affected by it.
As Valley Steel looks at its next year, Josh Kleinsasser, the manager, is optimistic about its prospects. Dan Kleinsasser is optimistic as well, but he also is more pragmatic about the future.
"There will be more challenges that we don't know about," Kleinsasser said.
But they'll solve those problems as they come up and become a better company because of it.