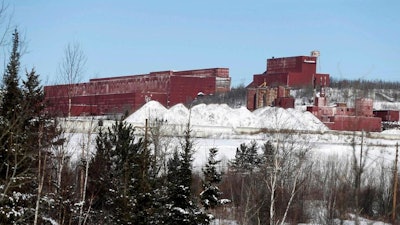 AP Photo/Jim Mone, File
MINNEAPOLIS (AP) — Minnesota regulators on Thursday granted key permits to the long-planned PolyMet copper-mining project that's opposed by environmentalists who fear it could someday foul waters, including Lake Superior.
The state Department of Natural Resources issued permits to PolyMet Mining Inc. for the company's proposed NorthMet project in northeastern Minnesota. The project still needs permits from other agencies, and likely faces court challenges.
"No project in the history of Minnesota has been more thoroughly evaluated," DNR Commissioner Tom Landwehr said in announcing approval of permits for the project, first proposed in 2004.
Environmentalists have opposed the mine for fear it could pollute pristine waters and destroy habitat for gray wolves and Canada lynx. The project would be located near tributaries feeding the St. Louis River, 175 river miles upstream from Lake Superior.
Duluth for Clean Water said the proposed mine "would create permanent, toxic pollution in the headwaters of Lake Superior, putting our communities and lives in constant danger."
"The massive open-pit mine would destroy huge swaths of the Superior National Forest and significantly increase annual CO2 emissions in Minnesota at the worst possible time," the group said.
PolyMet contends it can operate the proposed mine near Hoyt Lakes and Babbitt without harming the environment while creating hundreds of badly needed jobs on Minnesota's Iron Range.
"We look forward to building and operating a modern mine and developing the materials that sustain and enhance our modern world," PolyMet President and CEO Jon Cherry said in a news release. "Responsibly developing these strategic minerals in compliance with these permits while protecting Minnesota's natural resources is our top priority as we move forward."
Paula Maccabee, an attorney for environmental group WaterLegacy, said environmentalists will likely appeal if permits are granted, or they could request that the DNR reconsider its decision.
The agency issued a permit to mine, six water appropriation permits, two dam safety permits, a public waters work permit and an endangered species takings permit for the project. The permit to mine includes a financial assurance plan — designed to provide enough money so the DNR can reclaim and close the mine and plant site in case PolyMet does not — and a wetland replacement plan. The project still requires water and air quality permits from the Minnesota Pollution Control Agency and a wetlands permit from the U.S. Army Corps of Engineers.
Landwehr said the DNR is "confident that the project can be built, operated, and reclaimed in compliance with Minnesota's rigorous environmental standards."
"Yes, there will be an environmental impact," Landwehr told reporters. "Our job is to ensure those environmental impacts are within state standards, and whenever required, they are mitigated."
Maccabee and other environmentalists questioned why the DNR did not conduct a contested case hearing for an independent review before issuing the permits. But Landwehr said the project did not meet the standards under state law for such a trial-like hearing.
"These permits should be reviewed by an independent administrative law judge to establish the facts before permit decisions are made," Kathryn Hoffman, chief executive of the Minnesota Center for Environmental Advocacy, said in a statement, noting that such hearings are routine for pipelines and power plants. "It is special treatment for PolyMet to skip this vital step for the first copper-nickel mine to apply for permits in Minnesota."
Minnesota Republican legislative leaders hailed the DNR's decision.
"This new mine will create many good-paying jobs in Northeastern Minnesota and provide a real boost to the state's economy," House Speaker Kurt Daudt, a Republican from Crown, said in a statement.
The project would cost an estimated $945 million to construct. PolyMet said site preparation and rehabilitation of the former LTV Steel plant for a copper-nickel processing plant will continue through the winter and early spring. The company said the bulk of work is expected to start in the 2019 construction season and last about 24 to 30 months.