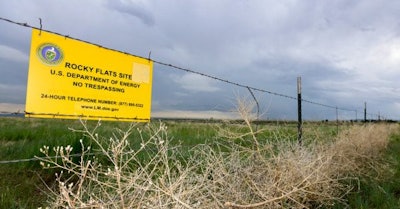 Matt Sebastian, @mattsebastian
DENVER (AP) — An oil and gas company is asking for state permits to drill near a former nuclear weapons plant in Colorado, but it's unclear whether any of the wells would extend under the site.
The Denver Post reported Thursday that Highlands Natural Resources Corp., registered in the United Kingdom, submitted plans for up to 31 wells near the former Rocky Flats plant northwest of Denver.
Rocky Flats manufactured plutonium triggers for nuclear bombs. After a $7 billion cleanup, most of the site became a national wildlife refuge, but the central area where waste is buried is controlled by the U.S. Energy Department.
Highlands Natural Resources said its proposed drilling sites are outside the refuge but did not say whether any wells would use directional drilling techniques to reach under the site.