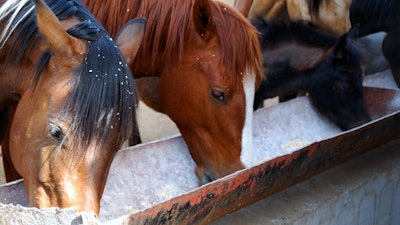 FRESNO, Calif. (AP) — A central California company that sold tainted feed that killed or severely sickened nearly 50 horses will pay $2.4 million to settle a lawsuit over the poisonings.
The Fresno Bee reports that Western Milling agreed to a settlement that was announced Monday.
The contaminated feed killed 21 horses at Black Fence Farms in Clovis, California. in 2015. Another 28 fell ill.
The lawsuit said that federal regulators previously had found that company feed samples contained "impermissibly high" levels of monensin, an antibiotic used to kill parasites and promote weight gain. It's used in cattle and poultry feed but is highly toxic to horses.
After the horse poisonings, California regulators fined Western Milling more than $700,000. The company agreed to stop manufacturing horse feed at its Goshen, California. plant last year.