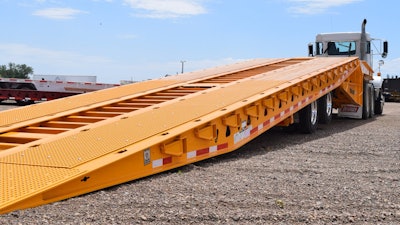 Trail King
MITCHELL, S.D. (AP) — Manufacturers in southeast South Dakota are looking to tap into a growing Hispanic population in a city with a low unemployment rate.
Mitchell's Hispanic or Latino population grew to about 2.7 percent in 2016, up from 1.7 percent in 2010, according to U.S. Census Bureau data. The percentage is small but significant enough to revamp local manufacturers' hiring practices, the Daily Republic reported.
The city's unemployment rate was 2.4 percent in August, according to Lori Essig, regional workforce coordinator for the Mitchell Area Development Corporation.
"It does not necessarily mean that people are employed at their dream job, but it does mean that there are more jobs than people available in our community, and so we need to look for more ways to bring more people to town," she said.
Essig found that many Mitchell manufacturing workers were commuting from Huron, which had an 11.8 percent Hispanic or Latino population in 2016.
Clark Breitag, human resources manager at Trail King in Mitchell, said Mitchell's low unemployment rate forced the manufacturing company to change their recruiting approach.
"We started to see a lot of potential candidates come to Trail King to apply for careers that necessarily didn't speak English," Breitag said. "So we've had to tailor our business to accommodate them, because we want to grow our workforce."
The company is using bilingual employees to bridge language barriers and train employees on the job, he said.
AKG began to recruit workers who speak English as a second language in April. The Mitchell manufacturer identified its existing bilingual employees to ensure that communication could work well before advertising for open positions.
"We're in a growth period right now, and we plan to be for some time," said Brian Hunt, plant manager for AKG. "We really needed an applicant pool that's bigger than what the economy provides right now."