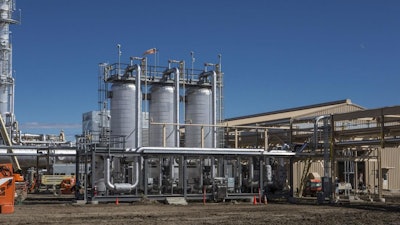 The Bismarck Tribune, @bistrib
BISMARCK, N.D. (AP) — A company building a natural gas processing plant in the Bakken oil patch has announced plans for a second plant, doubling the size of the project.
The Bismarck Tribune reports Oneok plans to construct the $410 million Demicks Lake II in McKenzie County, adding 200 million cubic feet per day of processing capacity.
Demicks Lake I will have the same capacity. But Oneok President and CEO Terry Spencer says it's expected to reach capacity soon after it's complete.
North Dakota produced 2.4 billion cubic feet per day of natural gas in July, exceeding processing plant capacity. Demicks Lake II is the eighth expansion or new plant expected to be complete in the next 1 ½ years.