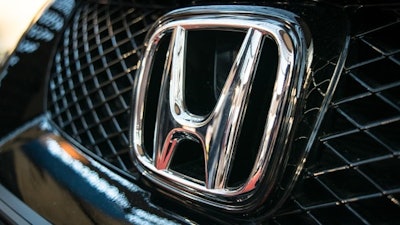 GREENSBURG, Ind. (AP) — Economists say no single community has been dramatically transformed by a southeastern Indiana Honda factory, despite soaring production numbers since the assembly plant opened a decade ago.
The factory emerged in 2008 and is now making two of the country's best-selling vehicles, the Civic and the CR-V. The plant can also produce about 250,000 vehicles a year and employs 2,400 people, The Indianapolis Business Journal reported.
The factory is Decatur County's largest taxpayer, and its presence has strengthened Indiana's reputation as an auto-making powerhouse.
But the plant hasn't had as much impact on Greensburg and Decatur County as casual observers might expect, said Michael Hicks, an economist at Ball State University.
"If you drive through Greensburg now, you have very little evidence that that plant is there," he said. "The downtown looks like it did in 2000 or 2005. It hasn't changed."
Hicks said the lack of change in Greensburg is because the city isn't large enough to supply Honda's labor needs, and the community doesn't have the amenities to lure large numbers of people to move there.
The Honda plant has attracted employees from more than 30 counties, including 27 in Indiana. Income tax collections in Indiana flow back to the county where the taxpayer lives instead of where the person works.
"The real economic benefits always accrue to the counties where the workers reside," Hicks said.
That is partly why it's unrealistic to think any one large project will dramatically transform a community, said Bryan Robbins, executive director of the Economic Development Corporation Greensburg Decatur County.
Honda's production numbers have been steady for the most part in the last several years, and the manufacturer has no immediate plans for growth.