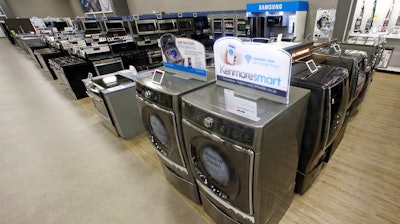 AP file
WASHINGTON (AP) — Orders for long-lasting U.S. factory goods fell 1.7 percent in July, the third decrease in the past four months.
The Commerce Department said Friday that durable goods orders — items meant to last at least three years such as autos and appliances — totaled $246.9 billion last month. Much of that decline came from a steep 35.4 percent drop in orders for non-defense aircraft, a volatile category on a monthly basis.
For most of 2018, manufacturing has been a source of strength with durable goods orders increasing 8.6 percent year-to-date. Excluding aircraft and non-military goods, orders rose 1.4 percent in July, a positive sign for the economy.
Still, U.S. trade showdowns with China, the European Union, Canada and Mexico have left many manufacturers feeling uncertain about their futures. President Donald Trump has levied and threatened taxes on imports as a tool for forcing foreign countries to give the United States better terms of trade. But tariffs carry the risk of higher prices and fewer sales for manufacturers that rely on a global market.
In its index on manufacturing growth, the Institute for Supply Management found that manufacturers were still expanding even as international trade has become a dominant concern.
The ISM, a trade group of purchasing managers, reported that its manufacturing index fell in July to 58.1 from 60.2 in June. Anything over 50 signals growth.