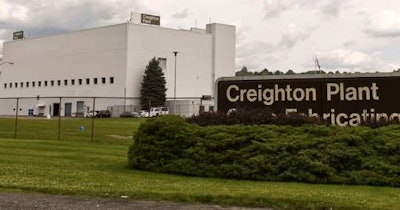 TribLIVE.com, @TribLIVE
CREIGHTON, PA. -- It's time to say goodbye for Vespucci "Skip" Traini and daughter Norine Traini.
The New Kensington residents walked away Friday afternoon from their last shift at Pittsburgh Glass Works Creighton plant. She painted glass. He inspected it. They would sometimes talk briefly during work about the production line.
"It was emotionally wrenching for some of them who had been here 40 years. My dad had worked here 39 years 10 months," Skip Traini said, adjusting a cap showing he served aboard the aircract carrier USS Enterprise. "I worked here 10 years and my daughter 8 1/2 years."
After 135 years, production at the country's oldest, financially successful plate glass manufacturing site, the Pittsburgh Glass Works Creighton plant, in East Deer, ceased Friday. About 160 workers represented by the United Steel Workers lost their jobs.
Traini, 59, said he will probably enroll at Penn State New Kensington or another school to complete a communications degree. His daughter, 29, will likely go to school to retool.
Lawrence Stubbs Jr. of Harrison worked at the plant six years. "It was always a good place to make a lot of good money," he said. He said he planned on going to school after spending time with his family.
In the sprinkles of a mid-summer day, members of two PGW shifts met in the parking lot or the sidewalk. Many shook hands. All waved. Traini and others finished their shift at 2:45 p.m. The 3 to 11 shift workers were walking inside to clock in.
"I get to pull the swing (shift) the last time," said Pam Deiseroth, of New Kensington, who worked 10 years at the plant.
"I get to retire Aug. 31 so it won't be bad for me. I feel for the others," she said.
Dan Knox, 71, of Tarentum, said he had worked at the plant 40 years 3 months. He is now 71. Time to retire, he said.
"Years ago when I thought about retirement I thought I'd walk out by myself. Instead, this is happening," he said.
"It's very sad. There were good employees, good people here. I can think back to the hundreds of others. This is a small fraction of all those who had already left," he said. "There has been a lot of affection in this plant."
He said he took a photo of workers putting together the last windshield.
Kim Bates of West Leechburg worked in the plant six years. "I get to start all over. But we will be fine."
It was 39 1/2 years of work for Beverly Close of Lower Burrell. She held a steel lunchbucket that belonged to her father, a carpenter.
"I used to run a furnace. Not a lot of demand for that," she said. The last shift was tough. "It was horrible. Many of us started here together. We grew up in the plant. I know I did," Close said. She talked about having many, many friends.
"I think we'll be friends until the day we all die," she said.
"It's a sad day for the workers here," said Kent Crytzer, 63, of Buffalo Township, union president at the plant.
"Hopefully, the young people will land on their feet and get another job, and the older people will enjoy their retirement," said Crytzer, who has worked there almost 40 years.
For the next two weeks, 14 employees will work at the plant after production stops, he said.
The East Deer site produced automotive glass and was originally owned by the Pittsburgh Plate Glass company, now PPG Industries, a global manufacturer of paints, coatings, and specialty materials.
PGW, a division of Mexico-based Vitro Automotive Glass, said it was shuttering the old plant because it couldn't keep up with increasing technological demands, and its manufacturing capacity was above market demand. The production at the East Deer plant will shift to other PGW manufacturing sites.
The U.S. Department of Labor this year approved the union's petition for the PGW workers to receive special benefits from the Trade Adjustment Assistance Program for workers adversely affected by foreign trade. PGW workers will receive federal unemployment benefits that will pay for retraining, additional cash compensation and other benefits.
The company released a statement expressing gratitude to the "generations of men and women who supported the Creighton glassworks over the years. The plant served a pivotal role for many years for our company, for our community, and for thousands of families."
But company's work is not done at the plant.
In a PGW statement released to the Tribune-Review, they pledged to ready the site for future use while an underground fire, detected last year, is burning and recently spread to a small area above ground behind the plant.
"Fieldwork and study continues and we are working with local agencies to complete an action plan for review and approvals," the company wrote in a statement released late Thursday.
PGW said it has been discussing the future use of the site, one of East Deer's largest industrial parcels, with the Pittsburgh Regional Alliance for future economic opportunities.