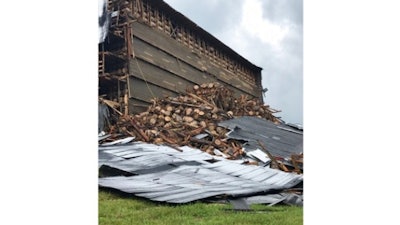 AP file
BARDSTOWN, Ky. (AP) — The collapse of a Kentucky distillery's warehouse last month has crews still cleaning up and trying to salvage roughly 18,000 barrels of aging bourbon.
News outlets reported Wednesday the Barton 1792 Distillery in Bardstown has been working one barrel at a time to save the bourbon. Part of the warehouse fell in June and the rest collapsed in July.
A video by Barton safety director Bob Mahanna says the effort involves a crane grabbing barrels and an inspector examining each one. If a barrel cannot be repaired the whiskey is drained and held until it can be returned to a barrel.
Barton spokeswoman Amy Preske says they haven't determined why the warehouse collapsed. The distillery hasn't said how much bourbon will be recovered or what they'll do with it.