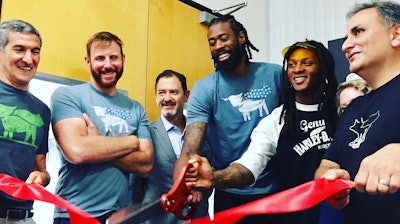 LOS ANGELES -- Working to unlock the future of protein, plant-based meat company Beyond Meat has opened the doors of a new 26,000 square foot research and development center at the company's headquarters.
The new facility, which houses nearly 100 employees, is the new home to Beyond Meat's Manhattan Beach Project, which is designed to bring together the world's best scientists, engineers, food technologists, chefs and managers in service of a single goal: perfectly build meat directly from plants.
Seven-times the size of its existing facility, the Innovation Center supports the company's Rapid & Relentless Innovation initiative, the goal of which is to continuously iterate the company's products until they are indistinguishable from their animal protein equivalent.
The new facility is designed to support the company's highly iterative and rapid style of innovation, one designed to deliver improvements to the marketplace on an annual basis.
It is broken into eight distinct labs and footprints, with an emphasis on consumer engagement and learnings.
"The new home to the Manhattan Beach Project allows us to reimagine the use of existing technologies for a better understanding of the complexity of meat," said Dr. Dariush Ajami, VP of Research & Development at Beyond Meat. "The Innovation Center gives us a leg up as we apply this knowledge in our efforts to perfectly build meat directly from plant materials, using only natural ingredients and without genetic modification."
The new facility also features a test kitchen that will be used to host chefs and culinary experts. The kitchen will offer a gourmet-style space where chefs can experiment and test Beyond Meat products and new innovations like Beyond Breakfast Sausage, which was recently previewed at the National Restaurant Association Show in Chicago.
The continued growth of the Manhattan Beach Project will create close to 50 new jobs over the next year. As part of its recruiting efforts, Beyond Meat is working with universities and research centers in the U.S. and abroad to identify the best and brightest scientists and engineers in their respective fields.