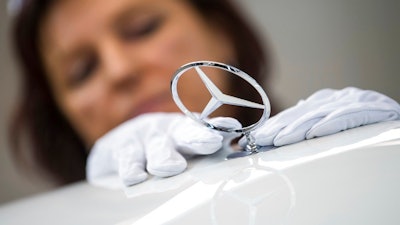 AP file
BERLIN (AP) — German automaker Daimler AG has lowered its 2018 earnings outlook, a change that it says is partly due to increased import tariffs for U.S. vehicles in China.
The company said late Wednesday that it now sees fewer SUV sales and higher costs at its Mercedes-Benz Cars division than previously expected, as a result of the tariffs, and "this effect cannot be fully compensated by the reallocation of vehicles to other markets." Daimler produces vehicles in the U.S.
It added that earnings at the Mercedes-Benz Vans division will be hit by the recall of diesel vehicles.
It said it now expects full-year earnings before interest and taxes to come in slightly below last year's level, compared with its previous forecast of a slight increase.
Daimler's shares were down 3.3 percent in early Frankfurt trading Thursday at 58.71 euros ($67.97).
Shares in Germany's other big automakers also were off following their rival's profit warning, with Volkswagen sliding 1.5 percent to 152.51 euros and BMW declining 1.9 percent to 81.83 euros.