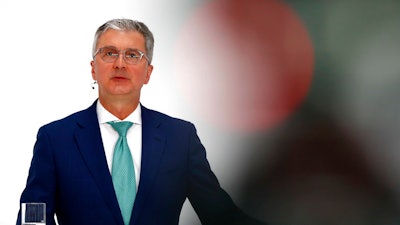 AP Photo/Matthias Schrader
BERLIN (AP) — German automaker Audi has named sales chief Abraham 'Bram' Schot as interim CEO following the arrest of Rupert Stadler as part of a probe into emissions cheating.
Audi, a division of Volkswagen, said in a statement Tuesday that it has also complied with Stadler's request to temporarily relieve him of his duties.
German prosecutors ordered Stadler's arrest Monday due to fears he might try to evade justice. A week earlier, authorities had searched his private residence on suspicion of fraud and indirect improprieties with documents.
The probe against Audi follows the emissions scandal that has rocked Volkswagen since 2015 and led to billions in fines, the arrest of executives and the indictment in the U.S. of its former CEO.
Schot has been a member of Audi's management board since September.