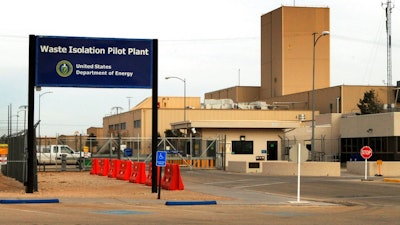 AP Photo/Susan Montoya Bryan, File
CARLSBAD, N.M. (AP) — Work started Thursday on a new ventilation system that will clear the way for more radioactive waste to be disposed of at the U.S. government's underground nuclear repository in southern New Mexico.
The Waste Isolation Pilot Plant is the nation's only location for disposing of tons of Cold War-era waste generated over years of bomb-making and nuclear weapons research. That includes gloves, clothing, tools and other debris contaminated by plutonium and other radioactive elements.
U.S. Energy Department officials marked the start of work with a groundbreaking event, saying a permanent system with more capacity will be important to plans for ramping up work at the plant.
The repository restarted operations in 2017 after a nearly three-year shutdown following a radiation release caused by a chemical reaction inside a drum of waste that had been improperly packed and shipped from the Los Alamos National Laboratory.
Aside from an expensive recovery effort and major policy overhauls, the 2014 release resulted in contamination that has drastically slowed the pace of moving waste to disposal vaults carved out of an ancient salt formation about a half-mile (0.8 kilometers) below the surface.
The work now takes more time because of limited ventilation. Workers must wear extra protective clothing, respirators and heavy monitoring devices to protect against the contamination.
Todd Shrader, manager of the Energy Department's field office in Carlsbad, said the new ventilation system will provide more air underground while running in a filtration mode that is designed to protect the environment. More airflow will allow for more flexibility as workers dispose of waste and mine new disposal vaults, he said.
The new ventilation system is expected to cost more than $750 million and is set to be completed in 2021. Officials also have plans for a new exhaust shaft that could end up costing around $100 million. The system will include a network of air shafts, a special building for filtering the air and backup diesel generators.