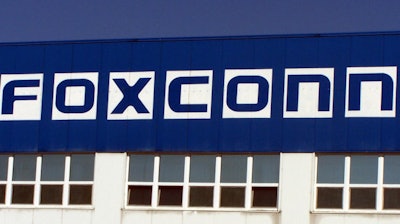 WAUKEGAN, Ill. (AP) — County officials in northeastern Illinois are concerned about the potential environmental impacts of the planned Foxconn manufacturing plant in southeast Wisconsin.
The Lake County Board unanimously passed a resolution Tuesday calling for Wisconsin officials to reconsider waiving environmental regulations as part of incentives for the Taiwanese company, which plans to build a $10 billion plant that will manufacture advanced liquid crystal display panels. Suburban Chicago's Lake County borders Wisconsin's southern state line.
The change in pollution standards "will compromise the environmental integrity and resiliency of natural resources" in the county, board Chairman Aaron Lawlor told The Lake County News-Sun .
Lawlor said moves by federal and Wisconsin officials to reduce air pollution standards in five southeastern Wisconsin counties, and the decision to allow special regulatory treatment and diversion of Lake Michigan water, will have numerous ecological impacts, such as decreasing air quality and increasing flooding.
The board's resolution follows the Lake County Stormwater Management Commission's resolution last week. It asked for Wisconsin and federal agencies to ensure that negative environmental impacts aren't imposed on county residents downstream of the plant.
The Illinois Senate also recently passed a resolution that asked Wisconsin lawmakers to consider the environmental and public health concerns that Illinois residents have about the development.
"Lake County residents deserve better," said Democratic Sen. Melinda Bush of Grayslake, who sponsored the resolution. "I hope Wisconsin leaders will put people before profits and reconsider the Foxconn deal."
The Wisconsin Department of Natural Resource said last month that it's considering potential environmental impacts while looking at permit requirements for the Foxconn project. Foxconn released a statement in March that said the company will fully comply with rules and regulations and is committed "to being a responsible corporate citizen."