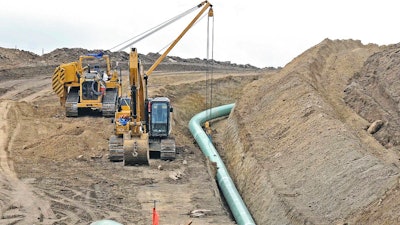 Tom Stromme/The Bismarck Tribune via AP
BISMARCK, N.D. (AP) — The U.S. Army Corps of Engineers within the next two months expects to wrap up an environmental study of the Dakota Access oil pipeline after recently meeting with four American Indian tribes battling the pipeline in court.
The tribe leading the lawsuit still feels it hasn't had a meaningful role in the study, and Standing Rock Sioux attorney Jan Hasselman said Monday that "the tribe is not giving up this fight" two years after the suit was filed and a year after oil began flowing.
Last year, U.S. District Judge James Boasberg in Washington, D.C., allowed the $3.8 billion pipeline to begin pumping oil from western North Dakota through South Dakota and Iowa to a shipping point in Illinois. However, he also ordered the Corps to further review the pipeline's impact on tribal interests, including how a spill under the Missouri River in the Dakotas would impact water rights for the Standing Rock, Cheyenne, Yankton and Oglala Sioux tribes.
Texas-based developer Energy Transfer Partners has said the pipeline is safe.
The work has gone beyond the Corps' initial completion estimate of April 2 because of what the agency maintained was difficulties in obtaining needed information from the tribes. Justice Department attorney Matthew Marinelli said in a status report to Boasberg filed Friday that the Corps between May 22 and June 1 met with representatives of each tribe and "has made substantial progress in its evaluation of the (study) issues."
Marinelli said that by Aug. 10 the Corps will "finish its consideration and analysis of the information submitted by the tribes and consider issues identified at the meetings with the tribes."
The Standing Rock and Cheyenne River tribes have sought more involvement in the study, and Hasselman said Standing Rock still isn't satisfied.
"We were never given access to any of the technical materials such as oil spill risk models that the government is relying on," he said. "We've done an excellent job preparing technical materials of our own explaining why the risk of this pipeline is much higher than the government has ever acknowledged, but we've had to do that with one hand tied behind our back."
Marinelli didn't immediately respond to a request for comment Monday.