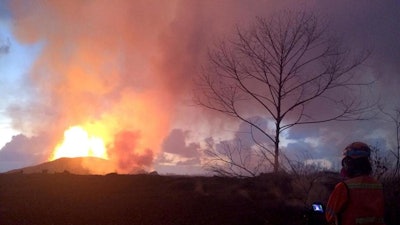 U.S. Geological Survey via AP
HONOLULU (AP) — Lava has burned down two buildings at a geothermal plant near Hawaii's erupting Kilauea volcano.
A substation and adjacent warehouse that stored a drilling rig at the Puna Geothermal Venture were covered by lava on Wednesday, according to a Thursday statement from Ormat Technologies, the Nevada company that owns the plant.
The main access road to the plant has also been covered and blocked by lava. An alternative access road remains open. Two geothermal wellheads were destroyed on May 28.
Meanwhile, county officials issued mandatory orders for residents of Leilani Estates to evacuate by noon and those in Kapoho Beach and Vacationland to leave by 2 p.m. or risk being trapped and unreachable by emergency crews.
Police said a 55-year-old man was arrested after he circumvented a traffic checkpoint and crashed his vehicle into a hardened lava flow.
Authorities said he was trying to get a look at lava and demanded passage through the checkpoint but was told by police to turn around.
About an hour later, the same man, whose name was not released, was brought back to the checkpoint by a resident with injuries to his head and face. The man told police he had smashed his truck into lava.
He was arrested on suspicion of driving under the influence and cited for loitering or refusing to leave a designated evacuation zone and failing to wear his seat belt. He was released pending further investigation after being admitted to a hospital.
The Puna geothermal plant was taken offline and evacuated soon after the volcano began erupting on May 3.
Officials removed roughly 50,000 gallons of pentane, a flammable gas similar to lighter fluid used in power generation at the plant, to an off-site industrial park. The geothermal wells were also plugged to prevent the accidental release of toxic gases from the lava flow.
Kilauea has displaced thousands of residents and destroyed dozens of homes.