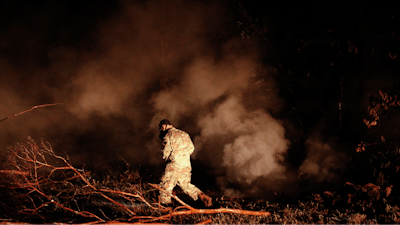 AP Photo/Jae C. Hong
Hawaii's Kilauea volcano could soon send boulders and ash shooting out of its summit crater. That kind of explosive eruption was last displayed by the volcano nearly a century ago.
This eruption could occur even as the volcano continues to splatter and ooze lava out of its eastern flank into a residential area.
Scientists said Wednesday the risks of an explosive summit eruption will rise in coming weeks as magma drains down the flank of the volcano.
According to Hawaii Gov. David Ige, a geothermal energy plant near the lava outbreak had a storage of a flammable gas called pentane. Workers moved quickly to relocate the fuel at Puna Geothermal Venture to an industrial park about 30 miles (48.2 kilometers) away.
The storage facility had about 50,000 gallons (189,270 liters) of pentane that would have been "very hazardous" if a volcanic vent were to open under the facility where the fuel is stored.
The Puna Geothermal Venture is owned by Nevada company Ormat Technologies.
The plant sits on the edge of Leilani Estates, one of the areas where nearly 2,000 residents have been forced to evacuate as Kilauea continues to spew lava. New fissures were opening closer to the edge of the plant, and residents were rightfully worried.