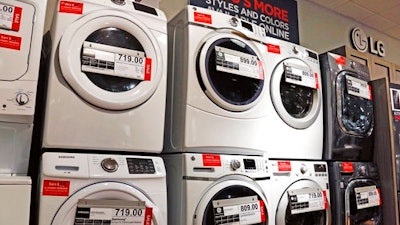 AP file
WASHINGTON (AP) — Orders for long-lasting manufactured goods fell in April amid weaker demand for aircraft. But a key category that tracks business investment rose after sliding in March — a sign of health for American industry.
The Commerce Department says U.S. orders for durable goods — manufactured items from washing machines to battleships that are meant to last at least three years — fell 1.7 percent from March. The figure was pushed down by a 29 percent plunge in orders for civilian aircraft.
But transportation orders are volatile and bounce around from month to month. Without them, durable goods orders rose 0.9 percent. Orders for computers, appliances and other electrical equipment and motor vehicles all rose.
Orders for civilian capital goods excluding aircraft, a number that tracks business investment, rose 1 percent in April after dropping 0.9 percent in March.
U.S. industry is healthy, helped by an expanding world economy and robust spending by American consumers. But the outlook may be cloudier. The dollar has been rising, which should drive up the price of U.S. products in foreign markets. Manufacturers also face uncertainty surrounding the Trump administration's decision to slap tariffs on imported steel and aluminum.
The Federal Reserve reported last week that U.S. factory production rose in April after a flat reading in March. A broader measure of industrial production, which includes mining and utilities, rose 0.7 percent.