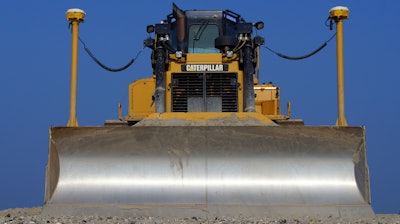 A boost in equipment sales propelled Caterpillar's first-quarter profit, as a strong global economy helped support construction and energy industry projects. The maker of heavy equipment and machinery also greatly increased its outlook for the year, citing an upbeat global markets, better pricing and demand. 
Profit rose eightfold to $1.67 billion, or $2.74 per share, while revenue surged 31 percent to $12.86 billion. The results topped Wall Street expectations. Construction equipment sales rose 38 percent during the quarter, while energy and transportation equipment sales rose 26 percent. North America remained the company's biggest market, with its Asia/Pacific region coming in as its next biggest. 
Looking ahead, the Deerfield, Illinois company boosted its full-year outlook by $2 to a range of $9.75 to $10.75 per share.