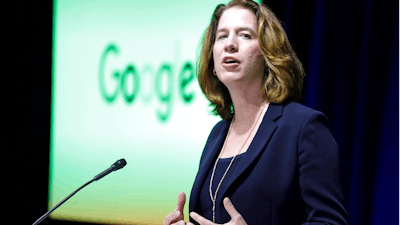 AP Photo/M. Spencer Green, File
NEW YORK (AP) — Mattel Inc. announced Thursday that its CEO Margo Georgiadis is stepping down and is being succeeded by a company director and former studio executive.
The toy giant, based in El Segundo, California, said the board has named Ynon Kreiz, a Mattel director since June 2017, as her replacement, effective April 26.
Mattel, the maker of the iconic Barbie and Fisher-Price brands, said that Georgiadis will serve in an advisory role through May 10 to ensure a smooth transition.
Georgiadis, a former Google executive who took the top spot in February 2017, informed the board of her decision and said she plans to pursue a new opportunity in the technology sector, Mattel said in a statement.
Kreiz, who brings more than two decades of experience in the media and entertainment industries, will become chairman of the board, effective upon his election by shareholders at the company's annual meeting set for May 17.
During her tenure, Georgiadis sought to cut costs and suspended Mattel's dividend but she was unable to turn around the company's business.
Like other toy companies, Mattel has been grappling with children's shift away from traditional toys toward mobile devices. And shoppers are increasingly buying online at Amazon.com.
The pressures are mounting after Toys R Us announced in March that it was liquidating its U.S. stores. The toy chain had filed for Chapter 11 bankruptcy last fall, but after a disastrous holiday shopping season, it was forced into liquidation.
Kreiz was the former chairman and CEO of Maker Studios, Inc., a global digital media and content network company, which was acquired by The Walt Disney Company in 2014. He previously served as chairman and CEO of Endemol Group, one of the world's largest independent television production companies with local operations in more than 30 countries.
Mattel's shares rose more than 1 percent, or 23 cents to $13. 68 in after-hours trading after slipping more than 3 percent to $13.45 in regular trading. Shares have been down nearly 50 percent since Georgiadis took the helm.