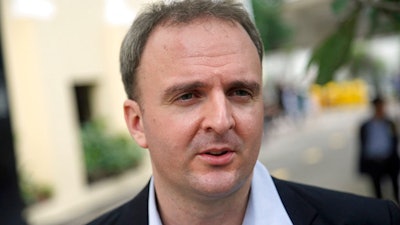 AP Photo/Sakchai Lalit, File
BANGKOK (AP) — A court in the Thai capital on Monday ordered a British labor rights activist to pay 10 million baht ($321,000) in damages to a company that filed a civil defamation suit after he helped expose alleged human rights violations at its factory.
The Monday ruling against Andy Hall was the latest development involving four defamation suits filed by pineapple canning company Natural Fruit, which employed migrant Myanmar workers who claimed the company had abused them and broke labor regulations.
Hall's legal troubles stem from a 2013 report he researched for the Finnish consumer organization Finnwatch that alleged labor abuses at Natural Fruit's facilities. They also concern an interview that he gave to Al-Jazeera on the subject, which was the focus of Monday's ruling. Natural Fruit claimed that the report Hall helped research and his interview comments both hurt their business.
Hall has prevailed in one of the two criminal defamation suits against him, while the other is pending, as is another civil suit. He has also filed a countersuit against Natural Fruit.
Hall left Thailand in 2016, citing intolerable legal harassment after another company, poultry producer Thammakaset Farm, sued him in another case, but still works on labor rights issues concerning migrants in Thailand.
"This verdict is a major setback for rights of human rights defenders, migrant workers, labour/migration activists and researchers everywhere and casts a dark shadow over recent positive progress the Thai government and Thai industry has made to improve migrant worker conditions," Hall commented Monday on his Twitter account.
The reputation of Thai companies has been tainted in recent years by allegations of labor abuse, especially in the fishing and seafood industries. Several companies in that sector have worked with Hall to try to improve conditions, fearing sanctions from countries that take Thai exports.
"The big issue in Andy Hall's case is this is an active attempt to try and discourage independent research into company supply chains in Thailand, and this should be a serious concern to all foreign investors who are sourcing production in Thailand," said Phil Robertson, deputy Asia director of Human Rights Watch.
"When problems in their supply chain are brought to light, companies like Natural Fruit or Thammakaset Farm can so easily sue and ruin the life of an activist to try to keep them silent. It has a chilling effect on this type of research. It has a chilling effect on the freedom of expression in Thailand," Robertson said.