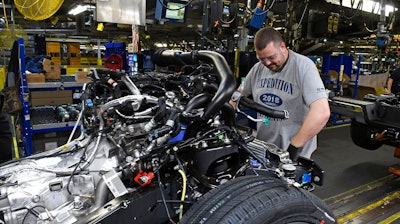 AP Photo/Timothy D. Easley, File
WASHINGTON (AP) — U.S. factory output jumped last month, led by big gains in the production of cars, computers and furniture.
The Federal Reserve says manufacturing output rebounded 1.2 percent in February, the most since October and following three months of weak or negative readings. Factory production has increased a healthy 2.5 percent in the past year.
Manufacturers are benefiting from robust spending by consumers and businesses and solid growth overseas. Still, consumer demand has waned a bit at the start of this year, which could weigh on factory output in the months ahead.
Overall industrial production, which includes mines and utilities, rose 1.1 percent in February after a decline of 0.3 percent. Mining output soared 4.3 percent. Utility production plunged 4.7 percent as warmer weather reduced demand for heating.